What Happened?
No one has anything good to say about General Electric (NYSE: GE) these days. In fact the negative banter has gotten so bad I actually increased my position today. One author in particular came out Tuesday with a scathing review of General Electric. The following is my rebuttal of the major points made in the piece.
New CEO promises same failed strategy
In the piece the author states:
"After over a decade of flailing its wheels, Immelt is out, but the new CEO promises the same failed strategy going forward."
This is simply not true. How do I know? The new CEO hasn't even provided to us what his new strategy will be. The new CEO John Flannery is current reviewing the entire company. On November 13 he will divulge his new strategy and reset expectations. So to say that the new CEO has promised the same failed strategy is simply not true at this time. The bottom line is we don't even know yet.
C-suite continues to churn
The author states:
"GE's c-Suite continues to churn while the dividend growth prospects are non-existent."
Immelt just recently stepped down as Chairman. Now the company just announced Trian Fund founding partner Ed Garden will be appointed to the board. Garden will replace Robert Lane, who is retiring for health reasons. What's more, it was announced on Friday that the CFO and three vice chairs will be stepping down. Jamie Miller, currently CEO of GE Transportation, will become the new CFO effective November 1st. Current CFO and vice chair Jeffrey Bornstein will exit the company on December 31st after serving 28 years. Along with Bornstein, vice chairs Beth Comstock and John Rice will retire effective December 31st as well. These departures closely follow news of the retirement of Chairman Jeffrey Immelt. Trian owns about 1% of GE.
Here is the deal. The "c-suite" is not "continuing to churn." New CEO Flannery is cleaning house. Whenever a CEO takes over, they always want to shake things up. It gets management's blood pumping. There is never anything negative with getting fresh blood and a new set of eyes to come up with an improved plan of action.
General Electric's cash burn
The author states:
"the cash burning abomination that is GE."
The fact of the matter is General Eectric is not a "cash burning" abomination. In fact General Electric's cash balance increased nearly 50% during the first half of the year.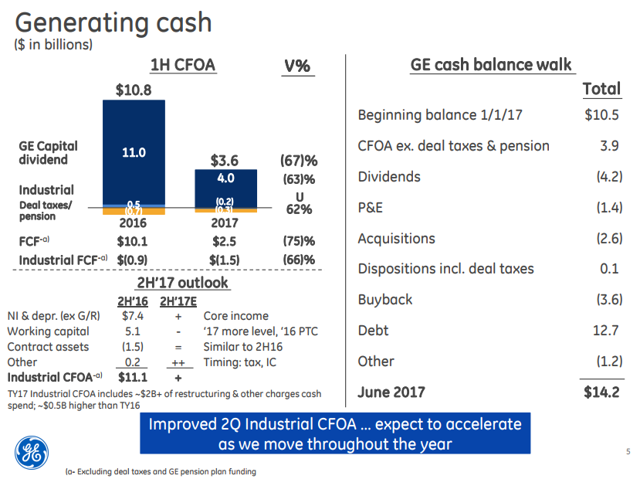 Source: ge.com
This cash balance rose from $10.5 billion on 1/1/2017 to $14.2 billion in June of 2017. Furthermore, the company expects cash flow from operating activities to improve in the second half of the year. Immelt stated on the last conference call:
"Contract assets will grow at about the same level and we will benefit from timing of other our items. We ended the quarter with $14 billion of cash on the balance sheet, in line with expectations. And we should be within the $12 billion to $14 billion goal for industrial CFOA."
So, the truth of the matter is there is no cash burn. The company has increased the cash balance in the first half of the year and expects the cash balance to be in-line with expectations for the remainder of the year.
Flannery says he is doubling down on failed strategy
The author states:
"Now Flannery says he's going to double down on Immelt's failed strategy by selling off even more businesses, such as selling off its water division for $3.4 billion."
First, as I stated earlier, we haven't even heard what Flannery's strategy is yet. I did a google search to find the quote where Flannery states he is "doubling down" on Immelt's plan. I couldn't find anything. Nevertheless, the fact that Flannery has just cleaned house with a major reorganization, I would say this is indicative of someone who is looking to break with the past, not double down on it. We shall see. I feel the statement made by the author is misleading at best.
Short-term moves are desperate window dressing
The author states:
"In the meantime, the company's short-term moves appear nothing more than desperate window dressing to appease Wall Street."
This could not be further from the truth in my opinion. Flannery is not making these small changes as window dressing to appease Wall Street. The obvious reason why is small moves like this cannot and have not "appeased Wall Street." The reason these small moves like canceling the corporate jets, etc., are being announced ahead of the official reset presentation is because they are "no-brainers." As Flannery reviews the cost side of the balance sheet perks like corporate jets and company cars are easy line items to eliminate. Flannery is simply nipping the cost in the bud. No reason to wait until November to put a stop to the corporate jet fleet expenses.
These moves don't add up to $2 billion
The author states:
"However, let's be realistic. In 2016, GE's total compensation to its top five executives was $78.2 million, $8 million of which was through perks such as company cars and private jet travel. Which means that the savings that Flannery is talking about can't be obtained by such PR stunts."
These moves do not add up to the savings target of $2 billion. The issue is no one ever said they were supposed to. This is the anatomy of a false strawman argument. You prove a point by making up some arbitrary thesis.
The Bottom Line
The fact of the matter is people familiar with the matter state Flannery is moving aggressively to break with the past and planning to announce cost savings of greater than $2 billion at the November 13 meeting. According to a recent article in the WSJ.com:
"Since taking over as CEO, John Flannery, who is now chairman too, has been moving aggressively to break with the past, replacing GE's finance chief and two other senior leaders on Friday. The GE veteran is also expected to unveil his restructuring efforts and reset financial targets in November, according to people familiar with the matter. They include a plan to generate more savings than the $2 billion previously targeted by the end of 2018, the people said."
Here is the bottom line – don't buy in to the hype. General Electric is down, but nowhere near out. The dividend is safe and the company's cash balance is adequate. With the stock already down 25%, I'd say most, if not all, the bad news is priced in. Now is the time to buy, not sell. Nevertheless, always later into any new position over time to reduce risk. Those are my thoughts on the matter. I look forward to reading yours. Please use this information as a starting point for your due diligence.
Your Input is required!
The true value of my article is derived from the prescient insights made in the comments section by Seeking Alpha members. Do you think General Electric shares are a buy or sell at present? Thank you in advance for your participation.
Note: If you found this article interesting and would like to be notified of my next post, please click on the "Follow" button below. I would greatly appreciate it.
Disclosure: I am/we are long GE.
I wrote this article myself, and it expresses my own opinions. I am not receiving compensation for it (other than from Seeking Alpha). I have no business relationship with any company whose stock is mentioned in this article.